See Additional Information: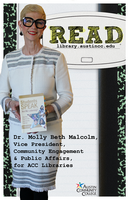 Loan Periods by Material Type
Items that DO NOT Check Out
Reference books ... Newspapers ... Most recent or current issue of a magazine or journal
Books:
In general, books checkout to currently enrolled ACC General Credit and CE (Semester-Long) Students for 14 days. ACC Faculty and Staff can checkout books for 21 days. [Fine if overdue: $0.25/day/item]


Note about Textbooks

The Student Support Textbook Collection is a special collection for special student populations. Be aware that certain restrictions are placed on this collection by Student Support. See

More Information

. Textbooks check out to ACC CREDIT STUDENTS ONLY

for the semester.
Reserves:
Only users with valid ACC ID cards can check out Reserves materials. Loan periods are specified by faculty and can be assigned to 2-hour (library-use-only)[Fine if overdue:$1.00 First Hour+ $0.25/hr thereafter], 1-Day, 3-Days, or 7-Days loan periods. The catalog specifies which loan period is assigned to an item. [Fine if overdue: $1.00/day/item] See More Information about reserves.
Magazines & Journals:
Only back issues check out for 3 days to ACC students, faculty and staff. The most recent or current issues of a magazine or journal are library-use-only. [Fine if overdue: $0.25/day/item]
Audiovisuals - Videos, DVDs, etc.:
All audiovisuals are shelved among the books that circulate to ACC students, faculty, and staff - Book Shelves - (14 days), faculty and staff (21 days). [Fine if overdue: $0.25/day/item]
Laptops:
Laptops check out to ACC students, faculty, and staff for 3 hours and are library-use-only. [Fine if overdue: $10.00/hour]
Tablets:
Tablets check out to ACC credit students for a 2-week loan period and can be renewed twice in-person (pending review of availability). [Fine if overdue: $1.00/day]