See Additional Resources: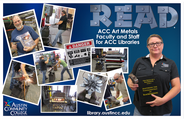 Need Help?
Library Services for ACC Center Students
OVERVIEW
All current ACC students are eligible for ACC Library Services regardless of their course locations. Wondering which ACC Library to use or how to access the Library because your course meets at a CENTER instead of a campus? Here is some brief information to get you started.
Library Locations
All ACC Campuses have libraries with faculty librarians, services and collections. ACC students may use any ACC Campus Library. Locations and Hours: http://library.austincc.edu/loc/
Library Website - Resources And Services
You can access services and resouces from Library website http://library.austincc.edu available 24/7. Selected services and resources are listed below. Many more Library services are accessible online.
Need More Information?
Library Services for ACC Centers --
Leigh Kilman | 512.223.1585 | lkilman@austincc.edu
Library Services for ACC Early College Start & Early College High Schools --
Toyya Cisneros | 512.223.8114 | toyya.cisneros@austincc.edu
Library Services for ACC online-distance learning students --
Ashley Carr | 512.223.4869 | acarr@austincc.edu
See Additional Resources: