See Additional Resources: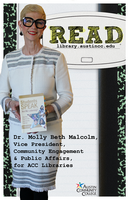 Values Statement -- Library Services
Electronic Issues and Patron Service
Teaching & Learning Excellence Division is a collaborative system of library services, instructional technology, and instructional development whose aim is to support teaching and learning at Austin Community College by providing the excellent staff, resources, instruction and services needed by our community of users.
Access to the Internet enables Library Services to enhance its existing collections to include ideas, information and commentary from around the world. In accessing this wealth of information, individual users take responsibility for complying with ACC acceptable use documents, ACC Administrative Rules, and local, state and federal laws.
Library Services does not limit access to materials or protect users from materials they may find offensive. Library Services does not accept responsibility for the content of sites accessible through the Internet, nor is it responsible for content of sources accessed through secondary links.
This statement outlines the values that guide staff behavior in regards to electronic information and its use and access in ACC Library environments.
Values
Library Services staff members value the principles of intellectual freedom as embodied by the American Library Association Library Bill of Rights.
Library Services staff members value freedom of access and support eliminating barriers between patrons and information.
Library Services staff members abide by and value the mission of Austin Community College.
Library Services staff members value patrons' right to privacy, outlined in ACC's Acceptable Use Policy.
Library Services staff members value a comfortable, safe environment for ALL ACC patrons and staff.
Library Services staff members value and are committed to the best possible use of college equipment and college resources.
See Additional Resources: