See Additional Resources: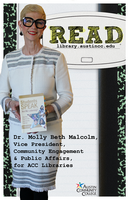 ---
Notice: Those individuals who do not follow these standards of behavior may be denied use of Library computer and network resources. Violators of these standards may also be subject to penalties under College regulations and under local, state, or federal, laws. Library Services reserves the right to modify this policy at any time.
Acceptable Use -- Access to Resources
ACCESS
An ACC Student ID or ACC- Faculty/Staff ID must be presented when requested by Library staff.
Use of computer workstations may be restricted to posted time limits at the discretion of Library staff.
Other limits may be imposed to respond to increased demands for workstations.
Adding, deleting, or altering computer hardware/software, peripherals, or settings is prohibited.
From the College Catalog:

A student needs an ACC photo ID card to use ACC services. All rights and privileges of the ID card are governed by ACC policy and procedures. Students are eligible to receive an ID card after they have registered for classes. The Admissions Office distributes ID cards. There is a replacement fee.
In addition, guests or visitors to the library, are required to present identification and sign in to use ACC Libraries.
See our
Guest/Visitor Guidelines
See Additional Resources: