See Additional Resources: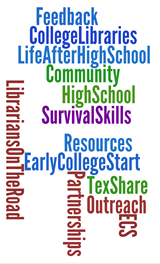 Serving Our Communities
Please use Additional Resources to move quickly to other pages of interest.

ACC Library Services is a collaborative system of library information, reference, instructional and technical support services which support teaching and learning at Austin Community College. In addition to serving the needs of ACC students, faculty and staff, ACC Library Services is dedicated to reaching out to the greater community as reflected in the Library Services Mission & Goals.
How We Can Help...
A full-service ACC library is located at all ACC campuses. We're onsite, online, available to help students as needed. More information about the libraries can be found at About Campus Libraries.
Library Website- most of the ACC Library website is accessible, with the notable exception of e-resources requiring student authentication.
Library Catalog - to search for library materials in our collections.
Note: You may check out ACC library materials with a TexShare card; learn more.
Library Guides & Online Tutorials- Our faculty librarians create a number of helpful research guides and reference tools that you can access online. How do I cite a website in MLA? How do I find book reviews? and What is the difference between a magazine and a journal anyhow? You can find answers to these questions and more.
More resources can be found on the Library Resources -- Community Outreach page.
See Additional Resources: