See Additional Resources: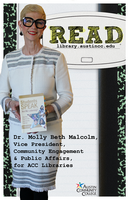 View / Checkout Media
Media owned by the library may be on the shelf or "streaming" online. The easiest way to determine a media location is to check the library catalog. The location will list either "Circulating Shelves," "Online Access," or "... Reserve Item."
What equipment is available?
Many of the ACC libraries house a media viewing area. These areas have equipment for your use, such as DVD players and TVs. If you will have need of this equipment, please contact your library before going. In the case of Streaming Media, there are computer stations in the library that can be used for viewing.
Circulating Media
Items shelved on the library book shelves with circulating books.
Location in the catalog is "Circulating Shelves" e.g., Circulating Shelves.
Items circulate to currently enrolled ACC students (14 days) and employees (21 days).
Media on Reserve
Items are placed on reserve behind the Checkout Desk by faculty members for a limited time.
Items usually circulate "in library only" for 2 hours.
Some items may have other limited Checkout periods, e.g. 1-day.
Location in catalog will show both "Reserve" and the "loan period" e.g., Reserve 2 hour - ASK AT CHECKOUT DESK.
Items circulate to currently enrolled ACC students and ACC employees.
Items cannot be renewed or held for users.
Streaming Media
In addition to physical media items, thousands of educational videos are available streaming through database resources like Films on Demand and Kanopy. Items in these databases may be viewed outside the library by signing in with your ACCeID and password. Location in the catalog is "Online Access"