See Related:
How do I find the Info Game?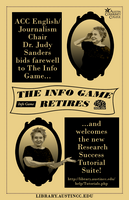 After many years of service, the InfoGame module has officially retired and the link has been removed from the library website! We have greatly appreciated our collaborative effort with English faculty over these many years in the design and delivery of this content for ACC students BUT contemporary research on teaching and learning, ENGL faculty feedback, increased assessment and accountability, and the increasing need for flexibility in working with today's students has led us to revise both the content and delivery of the Game. So the content is "back" but in new packaging.
ENGL 1301 Research Paper: Start Here has now replaced the InfoGame.
If you need additional assistance, visit any library to speak with a librarian or go to our Ask a Librarian page.
See related: Write a paper and document my sources
See Additional Resources: