See Additional Resources:
Interpreting Search Results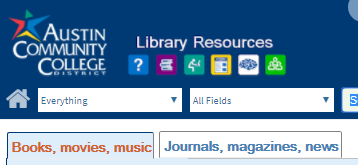 After you get results, note that they are displayed on two tabs

Books, movies, music
The resuls on this tab are records of physical items owned by the Library and our patron-driven electronic collection. That is, books, DVDs, ebooks, streaming videos -- discrete objects that fill our physical and digital shelves
These results can be limited by the facets in the left sidebar. Simply, check the applicable boxes and click the Limt to: button. Other limts not shown here include Author, Publication Date, and Language
Campus Library
You can limit your results to your campus library or more than one library. [Notice, in the image of the sidebar, that not all campuses are displayed. Click on More or View All to see more options.] ACC library materials are routinely sent between ACC campus libraries upon request by students. This is part of our regular library service provided at all campus libraries. If you need a library item sent between campus libraries, you can request the item be sent.
Material Type
Library material are available in many forms - Material Types. If you prefer a particular type, example: streaming video, you can limit your results to that type. Be aware that not all materials are available in every type.
Other Tips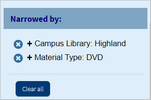 [1] If you have added limits and are not happy with those limits, you can "clear" the limits. Notice that after adding limits, a message like this one appears at the top of the sidebar. You can remove them one at a time by clicking the X or all of them by clicking the Clear All button.
[2] If you want to choose only one limiting option in a category, example, only one campus, instead of checking the box, you can simply click on the campus link.
See Additional Resources: