See Additional Resources: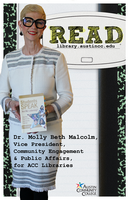 ---
Notice: Those individuals who do not follow these standards of behavior may be denied use of Library computer and network resources. Violators of these standards may also be subject to penalties under College regulations and under local, state, or federal, laws. Library Services reserves the right to modify this policy at any time.
Acceptable Use - Printing, Copying, Copyright
PRINTING
Users are limited to printing the posted number of pages.
See additional printing information
Additional documents, files or e-mail messages may be downloaded for printing or viewing at a later time.
Users are responsible for providing their own portable storage devices.
COPYING
Coin-operated photocopiers are available at all ACC Libraries.
Austin Community College contracts with an outside vendor to provide self-service coin-operated photocopiers in the Libraries.
See this FAQ for more information.
COPYRIGHT
Copyright Law (title 17, U.S. Code) prohibits the unauthorized reproduction or distribution of copyrighted materials, except as permitted by the principles of "fair use". Except as allowed by those principles, individuals should not copy or distribute electronic materials (including electronic mail, text, images, programs or data) without the explicit permission of the copyright holder.
Consequences of copyright infringement lie with the user; Library Services expressly disclaims any liability or responsibility from such use.
See Additional Resources: