See Additional Resources: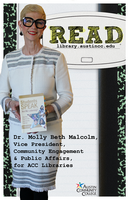 Need Help?
Library Services for Dual Credit & Early College Students
Through the Dual Credit program, high school juniors and seniors may enroll in ACC courses held at their high school - or taught at any ACC Campus (or online).
Additionally, ACC Early College High Schools enroll students in ACC courses held at their high school locations.
---
This webpage contains several facts about ACC Libraries that may seem different to you than your high school library - or - local public library. So, please don't be shy! Ask away! The ACC Library wants to help you obtain the library resources and services you need to succeed in your college coursework.
College libraries are different from high school libraries. You may immediately notice a difference in the physical setting -- even our study areas may seem different to you. And our collection will seem different in its size, contents, and arrangement. For example, college libraries tend to be larger and collect resources to support the courses taught here. Additionally, our online services and online full-text collection will be different, including that our internet access has no filtering.
---
ACC Libraries - Contact Us
Students & faculty may contact ACC Library Services at any of our locations:
Locations and Hours webpage provides hours of service, links to driving directions, and more info.
Library Website - Resources and Services
The ACC Library Website https://library.austincc.edu/ provides access to the Library Catalog, full-text article databases, research guides, online tutorials, and more! The Library website is a great place to start your research for books and articles.
Note: When you are researching or studying at any of the ACC campus Libraries, you will find they all have pcs for student access to Library resources and services. And, of course, you can access the Library website remotely from anywhere you have internet access. If you have your own laptop, it's okay to bring that to the Library too -- as ACC has a student wireless network that works on-campus. (You'll need your ACCeID to log-in to the College wireless student network.)
Some useful online resources:
Both ACC DC and ECHS students have ACC Library checkout privileges - meaning you can check-out most books and media items. If you call us, we can even send and hold the book for you at your nearest ACC campus library. You'll need your ACC ID or other photo ID to check-out materials.

Early College Students are eligible for special 'distance document delivery' service too!
How do you request 'distance' document delivery help? It's easy!
Just complete this online form -- distance learners document delivery request.
High School Libraries & College Libraries
Instructors may require that you utilize Library resources and services - BUT - do so without arranging help for you. Instead, they assume that you self-advocate and ask for assistance from ACC Librarians without their prompt.
Here are a few tips to help. Also, remember to Ask a Librarian!
Need More Info?