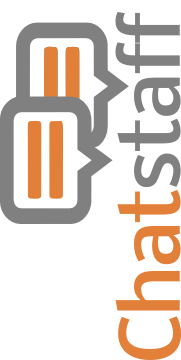 AFTER HOURS LIBRARY CHAT - Chatstaff
Chatstaff provides online reference chat to ACC students when ACC LIBRARIES ARE CLOSED on late nights and weekends (beginning 9pm weeknights, 5pm Saturdays, & 6pm Sundays).
Combined with our ACC Library chat service, Chatstaff greatly increases the total hours available for students and faculty to contact a Librarian with nearly 24/7 coverage.
Both chat services are embedded into ACC Blackboard courses, within the "Library Tab." Either chat service is available to ACC students and faculty remotely. You do not need to be on an ACC campus to access either chat service.
What are the main differences between 'ACC Library Chat' & 'Chatstaff Chat'?
ACC Library Chat

ACC Library chat is open for service during our regular Library hours. (8a-8:30p M-F, 8a-4:30p Sat, noon-5:30p Sun)
ACC Librarians answer all these questions.

Chatstaff

Chatstaff online chat is open for service when ACC is closed.
Skilled reference librarians from other parts of the country answer questions from ACC students.
First Time User?
How to get started using Chatstaff after hours:
You can get immediate help from a reference librarian after ACC libraries are closed.


chat loading...

The chat box will open in a new window.
updated: 8/23/17mp