See Additional Resources: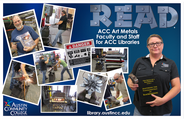 Overdue Notices
As a matter of courtesy, a first overdue notice is automatically generated and sent out when an item is overdue. A final notice is sent approximately four weeks from the due date.
Notices are sent to the ACC e-mail address provided to the student,faculty, or staff member. Or, it is sent to the surface mail address on record with the College. Students are responsible for maintaining a current address with the College. Other borrowers are responsible for maintaining a current email and surface mail address with the Library to ensure that they receive notices.
Checkout and Fine Policies for ACC Library Users
ACC Libraries maintain circulation guidelines to provide maximum availability of its resources to ACC borrowers as referenced in the Administrative Rule #4.02.002
Check Out
Renewal
Reserve items and laptops cannot be renewed. Items in the circulating collection may be renewed twice if no one has placed a hold on the item. If an item must be returned because the renewals have been exhausted, then the patron must wait at least 24 hours before checking it out again.
You may renew online, by phone, or in person.
Return
More Information