See Additional Resources: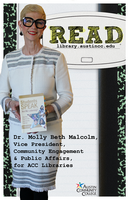 TexShare Borrowers from Other Institutions
Privileges, Rights, and Restrictions
TexShare borrowers may apply for privileges by presenting a valid TexShare Card and photo ID.
The borrower must sign a TexShare Borrower Agreement which outlines borrower responsibilities.
Borrowing privileges expire upon the date issued by the parent institution on the TexShare card.
Checkout

TexShare patrons may checkout up to 5 circulating items.
TexShare patrons may not access reserve materials or ILL.
TexShare patrons may not checkout laptops, tablets, realia, kits or textbooks.
Checkout is barred if two or more items are overdue.

Renewal

TexShare patrons may renew materials twice if they have not been requested by another patron.
TexShare patrons may renew by phone or in person.

Return

Materials may be returned to any ACC Library.
All campuses have an outside book drop which may be used throughout the year.

Reference and Research Help

TexShare Patrons may request reference help from faculty librarians.

Computer Use

TexShare patrons may use guest/visitor computers in the library for research.
TexShare patrons may not use the Computer Center.
More information
See Additional Resources: