See Additional Resources: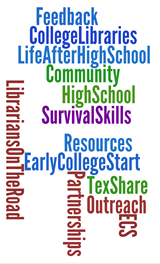 ACC Library Services in the Community

Has an ACC Faculty Librarian Helped You Lately?
In addition to supporting our college, ACC faculty librarians also serve the community at large. Here are just a few ways that ACC faculty librarians give back:
Texas Book Festival Volunteers
ESL tutors at Austin Public Library
Habitat for Humanity volunteers
Mobile Loaves and Fishes volunteers
Genealogical transcription volunteers
Reading volunteers at area elementary schools
Service as President of the Association of College and Research Libraries
Numerous services as Chairs, or committee members in Texas Library Association, American Library Association, Association of College and Research Libraries, Medical Library Association, and the Texas Community College Teaching Association
Providing books to Hurricane Katrina affected libraries
Providing books to prison libraries
Texas Book Festival Activity: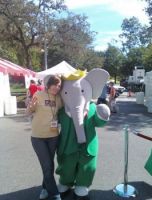 ACC Faculty Librarians are regular volunteers at the Texas Book Festival. One of our very own played a very BIG part!

ACC ACC Head Librarian Pam Spooner as Babar enjoy the book festival.
Read Campaign: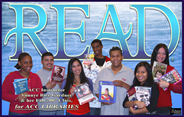 In collaboration with the American Library Association's national READ campaign, ACC Library Services promotes literacy in our own community with posters featuring ACC celebrities.
See Additional Resources: