See Additional Resources: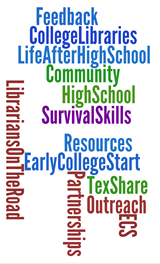 LIBRARY RESOURCES - COMMUNITY OUTREACH
Library resources and equipment are distributed among our campus libraries, and many are limited in use to only current ACC students and employees. However, the following are Library resources that non-students may access from off-campus.
Library Website- most of the ACC Library website is accessible, with the notable exception of e-resources requiring student authentication.
Library Catalog - to search for library materials in our collections. You may check out ACC library materials with a TexShare card, learn more below.

Book Quick Search

Type the keyword(s) in the box below then press Enter or click the Search button.

Library Guides & Online Tutorials - Our faculty librarians create a number of helpful research guides and reference tools that you can access online. How do I cite a website in MLA? How do I find book reviews? and What is the difference between a magazine and a journal anyhow? You can find answers to these questions and more.
Guest/Visitor Information

Guest/Visitor FAQ.
TexShare Databases

The Discovery Texas website provides access to TexShare electronic resources. This means that through the Discovery Texas website, non-students with valid TexShare cards may access many of the same TexShare electronic resources that our students use here at ACC. You may then access those databases from your home, office, or public library - anywhere you have 'net access.
TexShare Cards

Need a book at ACC but you are not a current student here? If you have a valid TexShare card you can check out ACC Library circulating materials.
Don't have a TexShare card? You can get a TexShare card through your school or public library and use it here at ACC, or at any other TexShare affiliated library.

Click on the following link from your local public library or school to find out how you can get a TexShare card:
updated: 10-20-14mp
See Additional Resources: