See Additional Resources: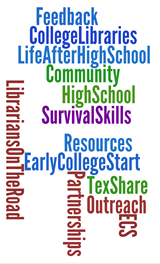 Life After High School

Top Ten Things You Need to Know About College Libraries
This presentation is one that ACC Faculty Librarians share with local high school students to help them prepare for the transition to college from high school, particulary how to transition from high school level research to college level research.

If we haven't made it out to your neck of the woods yet then today is your lucky day! Click on the link below to view a special PowerPoint presentation. Although the presentation is about ACC Library Services, there is a great deal of information that will apply to any college or university you choose to attend. Enjoy!
ACC Libraries...Top 10 Things You Need to Know

Library Survival Skills
What High School Students Should Know about Libraries Before Going to College
Colleges have a large array of databases available. Though high schools often have a core group of databases, the specialist databases provide a wealth of information for academic research. This often proves daunting to freshmen. College students need to know how to effectively access and utilize databases. This includes citing databases and understanding the various types of media available on databases.
College students need to know about the different kinds of periodicals, journals, and magazines. Professors require even lower-division students to read and comment on peer reviewed articles. Know the meaning of peer review, journal, serial, periodical, scholarly, etc.
It's essential for students Not to Just Use Google for research. Many professors will NOT let students use only non-subscription Internet sources, especially the Wikipedia.
College students must know how to evaluate resources and to use the best resources possible. This is more than knowing the difference between .gov and .com.
Students also need exposure making citations for at least books, periodical articles, and database resources. Sure, there are citation builders, but they don't always work that well, and it takes practice to do citations correctly.
Students must know this difference between styles: MLA, APA, CHICAGO, ETC.
Students must know how to IN-TEXT cite (weave in citations, etc.). Most incoming freshmen students just know parenthetical- end of the sentence- citations. This drives professors crazy.
Students simply must know enough about plagiarism to avoid committing it. Many colleges have very stiff penalties for all forms of academic dishonesty. This includes understanding nuances of summarizing, paraphrasing, quoting, etc. and that ALL require citations.
Most college libraries use the Library of Congress Classification system...most high schools use Dewey. Either way, students need to know what a call number is and how to use a map of the library to find different locations.
College libraries employ Faculty Librarians! Faculty librarians are there to help students to find the best possible resources. Often faculty librarians offer chat, email, Facebook, MySpace, etc. as a way to help. Large universities may offer 24/7 faculty librarians. Nobody expects you to know where everything is in the library, so just ask.



... See more skills on this

handout.
These tips from Academic (i.e. College) Librarians were retrieved from the Information Literacy Instruction Discussion List (hosted on the American Library Association server, sponsored by the Instruction Section of the Association of College and Research Libraries).
See Additional Resources: